HIGHLY POLISHED FINISH
SOLD OUT!
ON BACK ORDER UNTIL FURTHER NOTICE!
STOCK LOCATION INTERCOOLER
23 row bar & plate core
Comes with BLUE or BLACK hoses and t-bolt clamps
2.5" Inlet & Outlet Polished & adjustable shroud .
Driver & passenger side stock brackets are reused. The passenger side bracket has to be notched which is easy to do. The intercooler hooks directly to your original up pipe and turbo just as the stock one does. The sizes of this unit are; 13.5" wide (just like the factory) 15.5" tall, and a 3" thick core with a 2.5" inlet and a 2.5" outlet. Also included in this kit are hoses, clamps. The size of the hoses are 2" x 2.5" for the IC inlet and two 2.5" hoses for the IC outlet and throttle body connections. We are no longer including a custom pass side bracket as the factory piece can easily be notched and is stronger and fits better.
$599.00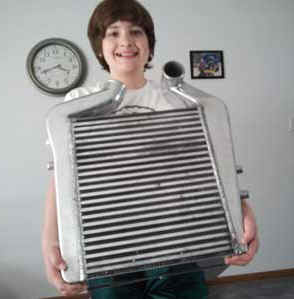 Happiness is a new intercooler!
CLICK ON PICS BELOW TO SEE FULL SIZE