TR Custom Parts
141 Ezra St
North Haven, CT 06473
We do all correspondence by email!
turboregalcustomparts@gmail.com
GENERAL INFO
Home Page
Ordering/Shipping/Returns
Comments
Customers' Cars

BUICK PRODUCTS
----------------------------------
AC RELATED PRODUCTS
AC Cowl Panel
AC Delete Plates
BODY RELATED
Air Dams-One Piece
Headlight Covers
LED Headlight Kit
COLD AIR/MAF PIPES
Cold Air Kits
MAF/INLET Pipes
4" One Piece Air Inlet Kit
Up Pipes
FLUID / COOLING
Billet Oil Filters
Dual Fan Kits
Power Steering Reservoir Kit
Aluminum Radiator
Radiator Caps
Oil Evacuation Tank
EXHAUST PRODUCTS
3" Dual Exhaust- Stainless
3" Internal Gate Downpipes
3" External Gate DownpipesHeaders
RemFlex Gaskets
EXTERIOR ITEMS
Door Handle Inserts
Lic Plates/ Frames
Wheelcap Overlays
INTERCOOLERS / ETC.
Intercoolers -Stock Location
Intercoolers -Front Mount
Intercooler Plates
Intercooler Tags
Throttle Body/Plenum Combo
INTERIOR ITEMS
Console Door Overlays
Console Overlays
Alky Control Dash Panels
Lower Dash Panels
Glovebox Plate Overlay Stock
Glovebox Plates
Horn Buttons/Overlays
Pullstrap Screw Covers
Radio Delete Plates
Scan Master Shade Hoods
Seat Bracket Kits
Seat Hinge Overlays
Shifter Handles
Switch Panels
MISCELLANEOUS
Alcohol Injection Kits
Bad Ass Fender Covers
Connecting Rods
Crankshafts ONLY
Flexplates
Fuel Pressure Gauge Kits
Fuel Pressure Hood Bracket
Get Back Seat Brackets
IAC Angle Boss
Main Caps/Bearings/Stud Kits
Stock Crank Kits
Stroker Crank Kits
Throttle Body/Plenum
TR-6 Ignition Plate
Trunk Firewall Kit
Valve Cover Gaskets
MOTOR DRESS-UP
Aluminum Pulleys
Battery Cover
Coil Plates
MAF Sensor PLATE
Plenum Spacer
Radiator Hold Down Plate
Translator Lid Overlay
Valve Covers
SUSPENSION / MOUNTS
Crossmember Mounts
Driveshaft Loop
Suspension G-Body
Rear Coilover Kits
QA1 Regular Shocks
QA1 Coil Over Shocks
Motor Mounts
Rearend Cover
Transmission Mounts
TURBO RELATED
Turbo Oil Drain Kit
Turbo Protector
Turbo Shields




Effective IMMEDIATELY. Due to the outrageous shipping charges these days we will not be shipping to Hawaii or Alaska. If you really want something you will have to contact us first and we can look into how much it will cost.
We have a replacement for the stock rubber isolation bushings at the ends of the Transmission Crossmember in Turbo Regal's (GM G-Body cars). They are made from a MUCH stronger & tougher Polyurethane material. The replacement steel brackets are a LOT thicker & stronger, with all new CNC machined threaded mounting bosses. Grade 10.9 bolts are also included, and the brackets & bolts are zinc plated for rust prevention & appearance. Each KIT comes with 2 steel brackets, 4 Poly isolators, and 4 bolts (enough for BOTH sides of the crossmember).

The BLACK Poly is a Performance Upgrade of the stock rubber, with basically no additional vibrations transferred. These are great for daily drivers and cars down into the 10's at the strip. are designed for daily driving and for extreme racing conditions, without having to change the stock cross-member. They are soft enough to absorb vibrations for street use, yet rugged enough for racing. These mounts also have a unique, metal safety locking feature, effectively controlling torque. This feature delivers the extra strength to resist problematic torque forces. Unfortunately, GM used a rubber version of this mount without any kind of safety locking feature. The interlocking feature of the mount gives you that added confidence against drive train and chassis/frame damage.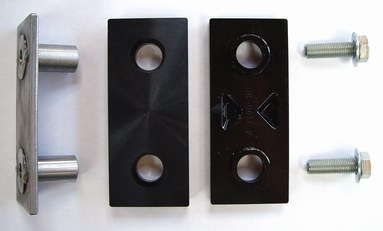 Poly Crossmember Mounts $89
ORDER YOUR CROSSMEMBER MOUNTS FROM
THE DROP DOWN MENU BELOW