TR Custom Parts
141 Ezra St
North Haven, CT 06473
We do all correspondence by email!
mhueffman@snet.net
GENERAL INFO
Home Page
Ordering/Shipping/Returns
Comments
Customers' Cars

BUICK PRODUCTS
----------------------------------
AC RELATED PRODUCTS
AC Cowl Panel
AC Delete Plates
BODY RELATED
Air Dams-One Piece
Headlight Covers
COLD AIR/MAF PIPES
Cold Air Kits
MAF/INLET Pipes
4" One Piece Air Inlet Kit
Up Pipes
FLUID / COOLING
Billet Oil Filters
Dual Fan Kits
Power Steering Reservoir Kit
Radiator-Aluminum/Custom
Radiator Caps
Upper Radiator Pipe Kits
Oil Evacuation Tank
EXHAUST PRODUCTS
3" Dual Exhaust- Stainless
3" Single Exhaust-Stainless
3" Internal Gate Downpipes
3" External Gate Downpipes
3.5" Downpipes
Headers
RemFlex Gaskets
EXTERIOR ITEMS
Door Handle Inserts
Lic Plates/ Frames
LED Lights
Wheelcap Overlays
INTERCOOLERS / ETC.
Billet Vacuum Block
Intercoolers -Stock Location
Intercoolers -Front Mount
Intercooler Plates
Intercooler Tags
Throttle Body/Plenum Combo
INTERIOR ITEMS
Console Door Overlays
Console Gear Indicator Plate
Console Overlays
Console Risers
Lower Dash Panels
Gauge Pods
Glovebox 2 Step Mount
Glovebox Plate Overlay Stock
Glovebox Plates
Horn Buttons/Overlays
Pullstrap Screw Covers
Radio Delete Plates
Scan Master Shade Hoods
Seat Bracket Kits
Seat Hinge Overlays
Switch Panels
MISCELLANEOUS
Alcohol Injection Kits
Bad Ass Fender Covers
Connecting Rods
Crankshafts ONLY
Flexplates
Fuel Pumps
Fuel Pressure Gauge Kits
Fuel Pressure Hood Bracket
Get Back Seat Brackets
Main Caps/Bearings/Stud KitSpark Plug Wires
Stock Crank Kits
Stroker Crank Kits
TR-6 Ignition Plate
Trunk Firewall Kit
Valve Cover Gaskets
MOTOR DRESS-UP
Aluminum Pulleys
Battery Cover
Coil Plates-Custom Engraved
MAF Sensor PLATE
Plenum Spacer
Radiator Hold Down Plate
Translator Lid Overlay
Valve Covers
SUSPENSION / MOUNTS
Crossmember Mounts
Driveshaft Loop
Suspension G-Body
Rear Coilover Kits
Rear Shock Tower Brace Kit
QA1 Regular Shocks
QA1 Coil Over Shocks
Motor Mounts
Rearend Cover
Rear Frame Notching Kit
Transmission Mounts
TURBO RELATED
Hot Air Turbo Heat Shield
Turbo Oil Drain Kit
Turbo Protector
Turbo Shields



These items are MADE TO ORDER by my engraver I work with.
Depending on his work load with his other engraving work, please
allow at least two weeks for them to be shipped out to you.
Here is a good one a customer recently ordered!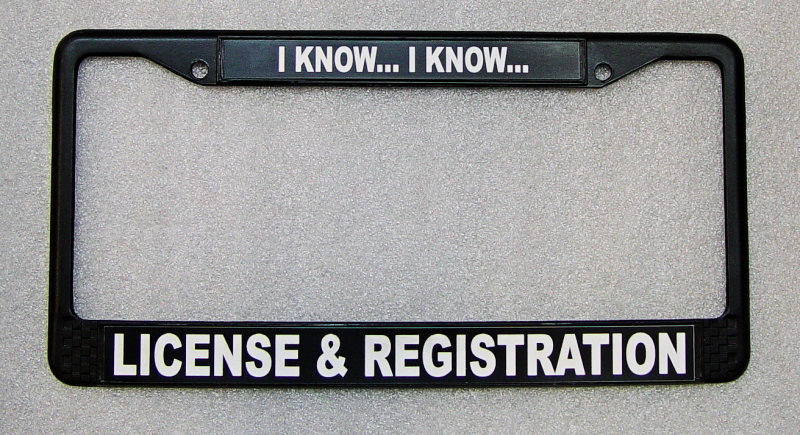 We offer license plate frames in black with your choice of wording. They are painted black and have engraved strips of metal or plastic that we insert in the top of bottom. Standard frames are sent with plastic strips and white letters. If you want any of the color combinations listed below YOU MUST LET US KNOW WHEN ORDERING.

Above are pictures of what the red/silver and blue/silver combinations look like. The silver is pretty close to chrome-looking, even though it looks more "white" in the pictures.

We can get almost any color combination in plastic. In stock, in addition to black/white (background color/letter color) I have white/black, red/white, white/red/ blue/white, white/blue, yellow/black, orange/white, green/white, woodgrain/white....


Realistically, the maximum "recommended" amount of lettering (including spaces) I can put on and have it reasonably "readable" is 30 on the top plate and 35 on the bottom. That's pretty cramped, but will work. I can fit MORE, but then readability is compromised...

This is a custom ordered piece and will ship directly from the engraver. It will be shipped quickly like all of the items we carry! You name it and we will engrave it! We can also engraved the POWER 6 logo! Indicate the POWER 6 logo by using [6] in the wording box below. The Mustang Hunting frame on the right is one of our most popular choices.


LICENSE PLATE FRAMES $22.00 EACH

ENGRAVED LICENSE PLATES
What's a plate frame without a nice license plate to accent it! Or is it the other way around?? We also have engraved license plates with your choice of logos that are laser engraved to your specifications! Not your cheapo stamped steel plates, these are made of thick black anodized aluminum.
Where did the GM logos go??
We have been contacted by General Motors legal department concerning the use of trademarked logos on the items we sell, and they have demanded that we no longer advertise any items that have a GM trademark. The basis of trademark law is the issue of "confusion", that our customers may believe that they are buying a licensed genuine GM item.
We have always made it clear that
we do not make imitations of any GM parts.
But we don't have the resources to litigate this issue, so we must comply with their demands. Therefore, we do not show any pictures of an item with a trademarked GM logo. We of course as always offer custom engraving on most items, and we have come up with a few "generic" logos that are "acceptable".
HOWEVER, AND THIS IS IMPORTANT: While the law may say that we cannot show photos or renditions of trademarked logos, there is NO LAW that prevents us from supplying you with anything you want for your vehicle, including any additional artwork or graphics. Therefore, if there's any type of artwork or graphic you want added to your item and it's not on our website, just ASK, or provide us with some artwork of what you'd like. We will gladly meet your request, if possible. Please note that a small extra nominal charge may apply depending on what you request.
NOTE! If ordering a CUSTOM plate, be sure to email us at mhueffman@snet.net with the details of what you want. Artwork would be appreciated to get it right!

LICENSE PLATES $30.00