TR Custom Parts
141 Ezra St
North Haven, CT 06473
We do all correspondence by email!

mhueffman@snet.net
GENERAL INFO
Home Page
Ordering/Shipping/Returns
Comments
Customers' Cars

OLDS PRODUCTS
G-Body Oldsmobile
BUICK PRODUCTS
----------------------------------
AC RELATED PRODUCTS
AC Cowl Panel
AC Delete Plates
BODY RELATED
Air Dams-One Piece
Headlight Covers
Hoodskinz

COLD AIR/MAF PIPES
Cold Air Kits
MAF/INLET Pipes
4" One Piece Air Inlet Kit
Up Pipes
FLUID / COOLING
Billet Fuel Rails
Billet Oil Filters
Dual Fan Kits
Power Steering Reservoir Kit
Radiator-Aluminum/Custom
Radiator Caps
Radiator Pipe Kits
RMI-25 Coolant Additive
EXHAUST PRODUCTS
3" Dual Exhaust- Stainless
4" Single Exhaust-Stainless
3" Internal Gate Downpipes
3" External Gate Downpipes
3.5" Downpipes
KB Style Headers
RemFlex Gaskets
EXTERIOR ITEMS
Door Handle Inserts
Lic Plates/ Frames
LED Lights
Wheelcap Overlays Custom
INTERCOOLERS / ETC.
Billet Vacuum Block
Intercoolers -Stock Location
Intercoolers -Front Mount
Intercooler Hoses/Clamps
Intercooler Plates
Intercooler Tags
Throttle Body/Plenum Combo
INTERIOR ITEMS
3rd Brake Overlays
Boost Controller Overlay
Console Door Overlays
Console Gear Indicator Plate
Console Overlays
Console Risers
Dashboard Kits
Door Trim Bar Inserts
Door Sill Plate Emblems
Gauge Panels
Gauge Pods
Glovebox 2 Step Mount
Glovebox Plate Overlay Stock
Glovebox Plates
Horn Buttons/Overlays
Pullstrap Screw Covers
Radio Delete Plates
Rear Seat Side Panels
Scan Master Shade Hoods
Seat Bracket Kits
Seat Hinge Overlays
Speedo Panel Kits
Switch Panels
MISCELLANEOUS
Alcohol Injection Kits
Bad Ass Fender Covers
Connecting Rods
Crankshafts ONLY
Flexplates
Fuel Pumps
Fuel Pressure Gauge Kits
Fuel Pressure Hood Bracket
Get Back Seat Brackets
Main Caps/Bearings/Stud Kits
Stock Crank Kits
Stroker Crank Kits
TR-6 Ignition Plate
Trunk Firewall Kit
Valve Cover Gaskets
MOTOR DRESS-UP
Aluminum Pulleys
Battery Cover
Coil Plates-Custom Engraved
Hot Air Intake Emblem
MAF Sensor PLATE
Plenum Spacer
Radiator Hold Down Plate
Translator Lid Overlay
Valve Covers
SUSPENSION / MOUNTS
Crossmember Mounts
Driveshaft Loop
Suspension G-Body
Rear Coilover Kits
Rear Coilover Bracket Kit
Rear Shock Tower Brace Kit
QA1 Regular Shocks
QA1 Coil Over Shocks
Motor Mounts
Rearend Cover
Rear Frame Notching Kit
Transmission Mounts
TURBO RELATED
Hot Air Turbo Heat Shield
Turbo Oil Drain Kit
Turbo Protector
Turbo Shields


Additional shipping charges may apply to Hawaii and Alaska orders
Heat sink ribs add to filter's functionality and aggressive aesthetic. The filters end cap is easily removed with four bolts for filter element inspection and replacement. The 25-454 longer 6.25" filter has a 4-5/8" tall synthetic fiber filter element which flows 45 GPM of hot engine oil with no loss of pressure and filters down to 8 microns comes preinstalled.

The 25-254 short 4.25" tall billet spin-on filter has a 2-5/8" tall synthetic fiber filter element which flows 15 GPM of hot engine oil with no loss of pressure and filters down to 8 microns comes preinstalled.

We also have a filter that will fit the 89 Pontiac Turbo Trans Am 25-244! Believe it or not this car takes a different filter than the Turbo Regals and has a wider base. This is a short filter like the 25-254.

These filters DO have an anti-drainback valve!
Made in the USA about 5 miles from us! This company has been making oil filters for more than two decades! This is the first major design change they have ever made. Eliminates the separate base and adds cooling fins. Same high quality.

25-454 LONG SPIN-ON OIL FILTERS are 6-1/4" long, 3-1/4" in diameter with 18 mm thread and standard o ring and accepts a 4-5/8" high 8 micron element. $160
Concerned that the longer filter will hit your Precision Stock Location Intercooler? We have a shorter filter that will work for you below.

25-254 LONG SPIN-ON OIL FILTERS are 4-1/4" long, 3-1/4" in diameter with 18 mm thread and standard o ring and accepts a 4-5/8" high 8 micron element. $150
25-244 LONG SPIN-ON OIL FILTERS for the 89 Pontiac Turbo Trans AM are 4-1/4" long, 3-1/4" in diameter body with 13/16"-16 thread and standard o ring and accepts a 4-5/8" high 8 micron element. $150

ORDER REPLACEMENT PARTS BELOW.

These filters were developed to better protect expensive racing engines. A filter was needed that would handle a continuous high flow of oil while filtering out small particles. The flow should not be restrictive even when the filter is partially contaminated and all the oil should be filtered all the time. The element should not be affected by moisture which erodes paper elements, and it should withstand pressure surges without collapsing or rupturing. The filter element meets these requirements and overcome the shortcomings of conventional filters. In the years since their development these elements have proven themselves in NASCAR, SCCA, IMCA, IRL, and NHRA racing and on countless street miles.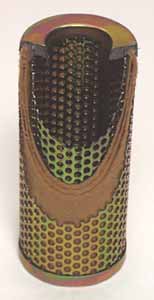 Conventional spin on filters have an element made from porous material (usually paper) which catches contaminant's on its surface. The flow limitations of this design require a compromise between large pores for more flow, which also lets bigger particles through all the time or a bypass which lets unfiltered oil during times of high flow. When designing the filter this compromise was eliminated by going to depth filtration, where oil flows through millions of intertwined passages and contaminant's are caught within the element. The flow characteristics of this design allows for finer filtration with greater flow without the need for a bypass. The synthetic fiber element material which is moisture resistant is sandwiched between two steel cages for surge protection.

These elements filter out particles down to 8 microns, half the size of what the average spin-on filter does and has a flow rate even when contaminated, that is far greater than that required by any automotive application. Depth filtration extends filter element life because it can catch far more contaminates without restricting flow. Because of it's longevity these filters are a natural match for use with the longer lasting synthetic oils.

Lightweight aluminum remote canister housings are available for both the 2 5/8" tall and the 4 5/8" tall elements. While these styles have been most popular in racing, they are a good option for applications where a conventional spin-on is in a hard to access place. CM spin-on housings are offered for both the 2 5/8" tall and the 4 5/8" tall elements with thread and o-ring combinations that fits most engines. These machined aluminum housings will last the life of your car.

The technology in the automotive area has advanced greatly in the past years. Today's engines develop more horsepower from smaller displacements, they rotate at higher R.P.M.s, with tighter tolerances, and generally run hotter. To maintain longevity under these conditions engines require a strong lubrication system. Today's oils have also improved to meet these demands, by lasting longer, and lubricating better, but even the best oil can only provide protection if it is kept clean.

In an automotive engine, oil collects contaminates as it circulates through the engine, these particles should then be removed by the oil filter. Contaminant's are present in all engines.They are a by-product of the combustion process which leaks past the piston rings. They are small particles of materials caused by the wearing of internal parts. Hot spots within an engine can cause oil decay (sludge) that needs to be removed. To be truly effective an oil filter needs to filter all the oil that goes through the lubrication system and remove these particles.

Depth filtration removes more particles without restricting flow, providing the absolute protection needed.
Questions Most Asked
Can you clean Synthetic Filter Elements?
No. Elements can not be cleaned because they work on depth filtration design where particles are caught within millions of tiny passages which run through out the element. This design allows for a much greater flow and the ability to hold far more particles than a conventional surface filter.
When should I change my filter element?
Under normal operating conditions we recommend a filter element should be changed every 10,000 street miles. Many customers change the element every second oil change. Under circumstances when large quantities of particles are being caught, like in older engines, engines which have not had regular oil changes, new engines during break-in, or when some oil additives are used, the element may need to be changed sooner. When the normal operating oil pressure has decreased 4 lbs. to 5 lbs. the filter should be changed.
How often do I change the O-ring seals?
Unless they are damaged they can last at least 4 filter changes.
Do these Spin-on Filters have an anti-drain back valve?
Yes. A flapper valve allows oil to easily enter the filter, while preventing it from draining out once the engine is shut off.
Do the filters have a built-in bypass?
No. The high flow of the element can handle more flow than that required by any automotive application, so all the oil can be filtered all the time.