TR Custom Parts
141 Ezra St
North Haven, CT 06473
We do all correspondence by email!
turboregalcustomparts@gmail.com
GENERAL INFO
Home Page
Ordering/Shipping/Returns
Comments
Customers' Cars

BUICK PRODUCTS
----------------------------------
AC RELATED PRODUCTS
AC Cowl Panel
AC Delete Plates
BODY RELATED
Air Dams-One Piece
Headlight Covers
LED Headlight Kit
COLD AIR/MAF PIPES
Cold Air Kits
MAF/INLET Pipes
4" One Piece Air Inlet Kit
Up Pipes
FLUID / COOLING
Billet Oil Filters
Dual Fan Kits
Power Steering Reservoir Kit
Aluminum Radiator
Radiator Caps
Oil Evacuation Tank
EXHAUST PRODUCTS
3" Dual Exhaust- Stainless
3" Internal Gate Downpipes
3" External Gate DownpipesHeaders
RemFlex Gaskets
EXTERIOR ITEMS
Door Handle Inserts
Lic Plates/ Frames
Wheelcap Overlays
INTERCOOLERS / ETC.
Intercoolers -Stock Location
Intercoolers -Front Mount
Intercooler Plates
Intercooler Tags
Throttle Body/Plenum Combo
INTERIOR ITEMS
Console Door Overlays
Console Overlays
Alky Control Dash Panels
Lower Dash Panels
Glovebox Plate Overlay Stock
Glovebox Plates
Horn Buttons/Overlays
Pullstrap Screw Covers
Radio Delete Plates
Scan Master Shade Hoods
Seat Bracket Kits
Seat Hinge Overlays
Shifter Handles
Switch Panels
MISCELLANEOUS
Alcohol Injection Kits
Bad Ass Fender Covers
Connecting Rods
Crankshafts ONLY
Flexplates
Fuel Pressure Gauge Kits
Fuel Pressure Hood Bracket
Get Back Seat Brackets
IAC Angle Boss
Main Caps/Bearings/Stud Kits
Stock Crank Kits
Stroker Crank Kits
Throttle Body/Plenum
TR-6 Ignition Plate
Trunk Firewall Kit
Valve Cover Gaskets
MOTOR DRESS-UP
Aluminum Pulleys
Battery Cover
Coil Plates
MAF Sensor PLATE
Plenum Spacer
Radiator Hold Down Plate
Translator Lid Overlay
Valve Covers
SUSPENSION / MOUNTS
Crossmember Mounts
Driveshaft Loop
Suspension G-Body
Rear Coilover Kits
QA1 Regular Shocks
QA1 Coil Over Shocks
Motor Mounts
Rearend Cover
Transmission Mounts
TURBO RELATED
Turbo Oil Drain Kit
Turbo Protector
Turbo Shields




Effective IMMEDIATELY. Due to the outrageous shipping charges these days we will not be shipping to Hawaii or Alaska. If you really want something you will have to contact us first and we can look into how much it will cost.
SPOHN G-BODY REAR COIL OVER KITS (78-87)
Available with single or double adjustable shocks
$699 to $899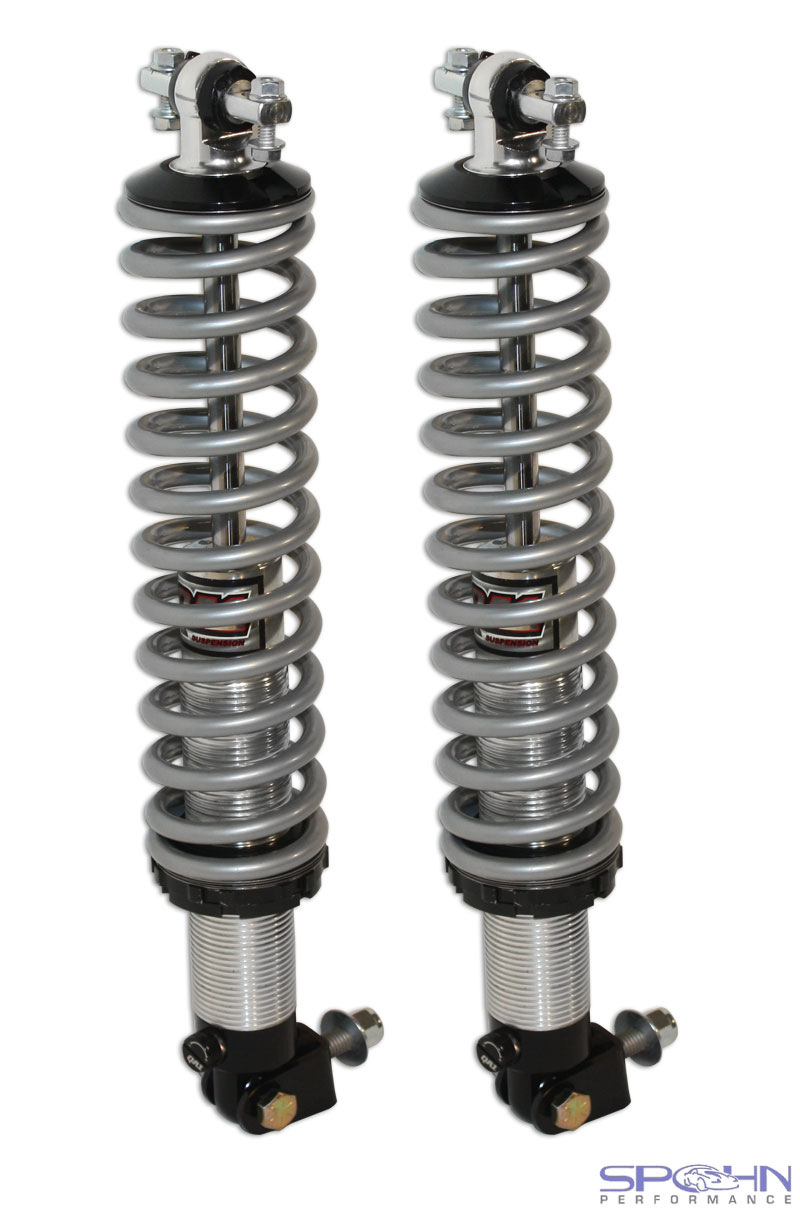 Just installed a set of these on my own GN on 11-24-12. True bolt in installation. More clearance for exhaust systems. Adjust the height of your car where YOU want it. Below pics are all of my GN. Currently sitting at 26.5" from ground to the center of the wheelwell molding. This is with 275/60 x 15 BFG Drag Radials.
IMPORTANT!
If you are running wide wheels with a lot of inset or rear disc brakes you will need to order some rear mounts from either BMR or UMI Performance for extra clearance. These will move the bottom of the shock inboard. Unfortunately we do not sell those brackets.
Application: 1978-1987 GM G-Body: Regal, Malibu, Monte Carlo
The Spohn Performance rear coil over conversion kit for the for the 1978-1987 GM G-Body: Regal, Malibu, Monte Carlo, etc.
This kit is based on the QA1 Proma Star 18 way single adjustable aluminum coil over shocks:
SINGLE ADJUSTABLE -

Simultaneous compression and rebound adjustment with 18 valving options. Unique to QA1, one knob changes both compression and rebound valving simultaneously, allowing total suspension control in one easy-to-reach location.
DOUBLE ADJUSTABLE -

Includes 18 positions of compression adjustment on one knob, and 18 positions of rebound adjustments on the other knob. Each knob is clearly labeled with an

"R"

for rebound and a

"C"

for compression, as well as plus and minus symbols for ease of adjustment. These shocks give you

324 Valving Adjustments!
Deflective Disc Valving:

Advanced shock technology,

increased sensitivity in valving response, control and consistency.
Precision Machined Piston with PTFE Piston Band:

Creates accurate piston to cylinder wall seal, improves valving consistency and increases durability.
5/8" Centerless Ground, Hard Chrome Plated, Solid Piston Rod:

Precision surface, eliminates piston rod flex increasing valving consistency.
Forged, Machined Aluminum Body:

Lightweight, stronger than billet. Bright anodized for unmatched durability and great appearance.
Three Step Sealing System:

Advanced aerospace material, exclusive double lip seal design and wiper seal eliminate seal drag and dirt intrusion.
100% Dyno Tested and Serialized:

Assures consistency in production and performance.
Spring Mounting Hardware Included:

Aluminum spring cap, spring seat, and locking ring included.
Top Shock Mounting:

Polyurethane bushings with extreme duty CNC machined t-bars.

Bottom Shock Mounting:

Exclusive Teflon/Kevlar race bearings for smooth bind-free operation.
Adjustment:

Adjust your ride height as high or as low as you need.
The Spohn Performance rear coil over conversion kit for the 1978-1987 GM G-Body: Regal, Malibu, Monte Carlo, etc. ships to you fully assembled (as pictured) and ready to install. The kit is an easy 100% bolt in installation!

Kit includes everything needed, including:
| | |
| --- | --- |
| | (2) Rear coil over shocks |
| | (2) 2.5" i.d. x 14" long coil over springs |
| | (2) CNC laser cut and formed steel lower mounting clevises |
| | Grade 8 mounting hardware |
| | Spanner wrench set |
| | Torrington thrust washers and bearings for spring seat |
Spring Rates: For a soft stock like ride we recommend a 130# spring. For drag racing and street/strip applications we recommend a 150# spring. For handling performance we recommend a 175# spring. For road racing we recommend a 200# spring.
These may take up to 6 weeks to ship due to supply chain issues. Yes, I am tired of hearing that too but just want to keep customers informed. Ordering does get you in line as parts come in.


G-Body Rear Coilover Kits $699 to $899
Order below!
SELECT YOUR REAR COILOVER KITS & SPRING RATES FROM THE DROP DOWN MENU BELOW