Comes with BLUE or BLACK hoses and t-bolt clamps
SMALL FRONT MOUNT
$749.00
3" Inlet & Outlet
24 X 11 X 3" thick core
This hand built aluminum SMALL front mount intercooler has a bar and plate core and fits any Buick Grand National, T-Type, or Regal with a 3.8 v6 turbo. This intercooler comes complete with all the aluminum pipes and hardware needed.
PLEASE LET US KNOW WHAT YOU ARE RUNNING FOR A THROTTLE BODY AND WHAT YOUR TURBO OUTLET SIZE IS WHEN ORDERING!
The dimensions of this intercoolers core are 24x11x3, and from tank to tank is 30.5 inches in total length featuring 3" inlet and outlets.
Tube sizes are all 3 inches in diameter and are mandrel bent aluminum pipes. This intercooler is light weight and good for up to 800hp.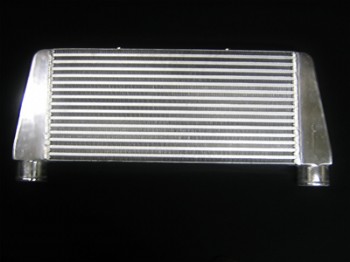 Pics of SMALL Front Mount IC installed on a customers car
Click to see full size! No need to disassemble this far to install, he is in the middle of a makeover and has the front end off. Just a good opportunity to show how it looks mounted.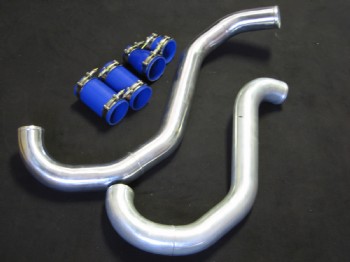 NOTE! This package deal comes with BLUE or BLACK hoses. Be sure to select the correct color from the drop down menu. Not responsible if you order the wrong color hoses. Hoses shipped will be for a stock throttle body and 2" turbo outlet unless otherwise requested. NOTE! Pipes are a semi polished finish.
CLICK ON PICS BELOW TO SEE FULL SIZE