TR Custom Parts
141 Ezra St
North Haven, CT 06473
We do all correspondence by email!
turboregalcustomparts@gmail.com
GENERAL INFO
Home Page
Ordering/Shipping/Returns
Comments
Customers' Cars

BUICK PRODUCTS
----------------------------------
AC RELATED PRODUCTS
AC Cowl Panel
AC Delete Plates
BODY RELATED
Air Dams-One Piece
Headlight Covers
LED Headlight Kit
COLD AIR/MAF PIPES
Cold Air Kits
MAF/INLET Pipes
4" One Piece Air Inlet Kit
Up Pipes
FLUID / COOLING
Billet Oil Filters
Dual Fan Kits
Power Steering Reservoir Kit
Aluminum Radiator
Radiator Caps
Oil Evacuation Tank
EXHAUST PRODUCTS
3" Dual Exhaust- Stainless
3" Internal Gate Downpipes
3" External Gate DownpipesHeaders
RemFlex Gaskets
EXTERIOR ITEMS
Door Handle Inserts
Lic Plates/ Frames
Wheelcap Overlays
INTERCOOLERS / ETC.
Intercoolers -Stock Location
Intercoolers -Front Mount
Intercooler Plates
Intercooler Tags
Throttle Body/Plenum Combo
INTERIOR ITEMS
Console Door Overlays
Console Overlays
Alky Control Dash Panels
Lower Dash Panels
Glovebox Plate Overlay Stock
Glovebox Plates
Horn Buttons/Overlays
Pullstrap Screw Covers
Radio Delete Plates
Scan Master Shade Hoods
Seat Bracket Kits
Seat Hinge Overlays
Shifter Handles
Switch Panels
MISCELLANEOUS
Alcohol Injection Kits
Bad Ass Fender Covers
Connecting Rods
Crankshafts ONLY
Flexplates
Fuel Pressure Gauge Kits
Fuel Pressure Hood Bracket
Get Back Seat Brackets
Main Caps/Bearings/Stud Kits
Stock Crank Kits
Stroker Crank Kits
TR-6 Ignition Plate
Trunk Firewall Kit
Valve Cover Gaskets
MOTOR DRESS-UP
Aluminum Pulleys
Battery Cover
Coil Plates
MAF Sensor PLATE
Plenum Spacer
Radiator Hold Down Plate
Translator Lid Overlay
Valve Covers
SUSPENSION / MOUNTS
Crossmember Mounts
Driveshaft Loop
Suspension G-Body
Rear Coilover Kits
QA1 Regular Shocks
QA1 Coil Over Shocks
Motor Mounts
Rearend Cover
Transmission Mounts
TURBO RELATED
Turbo Oil Drain Kit
Turbo Protector
Turbo Shields



Effective IMMEDIATELY. Due to the outrageous shipping charges these days we will not be shipping to Hawaii or Alaska. If you really want something you will have to contact us first and we can look into how much it will cost.
HR PARTSNSTUFF
EMAIL US TO SEE IF MOTOR MOUNTS ARE IN STOCK, MANUFACTURER IS TRYING TO KEEP UP WITH DEMAND.
turboregalcustomparts@gmail.com
.
Construction
Strengths
Installation
FAQ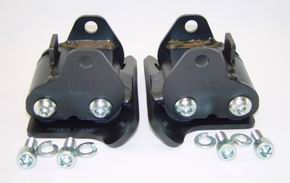 We have designed and produced a new motor mount for GM G-Body vehicles from '78-'87, replacing GM part numbers: 25504647 left and 1258718 right. These are more commonly referred to as "Poly Motor Mounts", because they have Polyurethane bushings incorporated into their design. These new mounts have proven to be indestructible and are stronger than even solid type mounts. The Poly mounts are designed to benefit the every-day driver as well as the full time racer, at any performance level. The mounts now have a new design cross-pin being used in them. Previously the pin was round and would contact the frame pads once the engine was lowered into position determining the height of the engine. The new and improved pin design has a milled flat on one are which allows a and lowered height to be obtained on installation if needed. The pin can be rotated so the flat of the pin will contact the frame pad and drop the engine approximately 1/8" to 1/4".
Applications include:
| | |
| --- | --- |
| | '82-'87 Buick Regal (GN, GN-X, T-Type, WE-4) |
NOTE: We have THREE different designs for the above applications.
The "1ST DESIGN" will ONLY fit Buick production 3.8's.
| | |
| --- | --- |
| | Part # HR0101 is for a pair of Poly motor mounts |
| | Part # HR0102 is for a the drivers side ONLY |
| | Part # HR0103 is for a the passenger side ONLY |
For most street cars/daily drivers, upgrading the drivers side along with a GM passenger mount in very good condition will work fine. I do however always replacing both sides so your engine will sit level, replacing just the driver side while keeping a worn out original passenger side mount may lead to some downpipe clearance issues. For engines over approx. 500 HP, a pair is recommended for the best possible performance, as well as safety. If there is minimal clearance around the engine and excessive movement could cause problems, then a pair will also be much more helpful in keeping the motor in place. If an upgrade to a NON-Buick production 3.8 block is in your near future, it would be wise to consider our "second design" below.
Our "2ND DESIGN" will fit Stage I & II blocks, and ALL GM production V-6's

| | |
| --- | --- |
| | Part # HR0104S is for a pair of the 2nd design Poly motor mounts |
The second design is basically the same as the first design, they use the same grade of poly as the first design mounts but have added clearance machined into them for proper fit against the sides of the Stage 1 & 2 blocks.
All styles of mounts are made from all new parts and materials, and assembled with precision CNC machined jig fixtures. To ensure the highest degree of quality, parts are laser cut and manufactured to precision tolerances with CNC equipment. They are welded with a state-of-the-art high frequency mig welder and include grade 8 (or better) hardware. A 3/8" hex bit driver for use on a ratchet will be needed to install while the motor is in the car.

Our mounts are MUCH stronger than stock, without any of the problems associated with solid mounts. There are NO negative effects to the block or knock sensor from using our Poly mounts. They include the highest quality polyurethane bushings from a well known manufacturer that have been modified to be used with our design. They are soft enough to allow a slight amount of movement which reduces bind/stress, and also stiff enough to keep the engine where it is designed to be under full power. There is also added clearance over the stock mounts for aftermarket oiling systems, and they should NOT need any additional modifications.

Testing with a 10.70's Buick GN in race trim has shown over 75% less flexing than the stock mounts at 5 psi boost (300-350 HP) brake torque. Another benefit we found was that the engine was shaking noticeably less at an idle.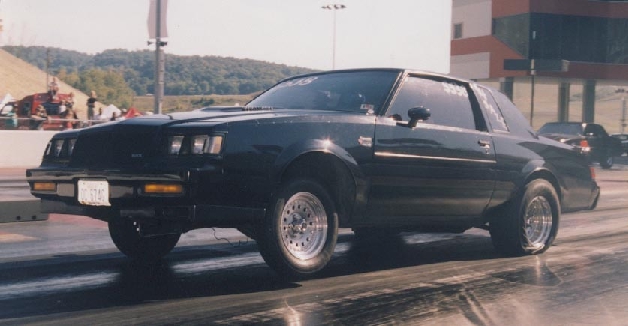 We also tested them at 30+ psi boost on many 1/4 mile passes, with 1.40 - 1.46 60 foot times, all without any engine anchor. This was with a production block and approx. 3500 Lbs car/driver. They have been low 9's on a customers car with a stage block using a transbrake, with no engine anchor or mid-plate. They are currently being used on many 9 sec cars, some 8 second cars and many milder daily drivers with great success.

On an '87 Buick GN, the mounts can usually be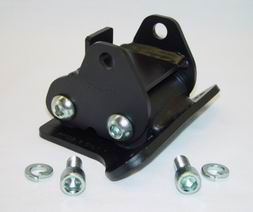 changed with the motor still in the car somewhat easily, depending upon exact upgrades. They come fully assembled and have a black finish with new Allen head bolts (actually stronger than grade 8) and lock washers for bolting up to the block. These have also been used to mount Turbo V-6's into several different non-Buick makes/models. Some fabrication of the frame pad and/or cross-members will obviously needed, depending upon applications.

There will be a One Year limited warranty on the mounts against workmanship and/or breakage, limited to the replacement of the mount. Details will be included with each purchase, along with helpful tips for an easy installation. Because of the quality, design, and workmanship, the warranty applies even under extreme racing conditions. For more detailed information, please visit the other sections at the top of this page.
PLEASE EMAIL US ON AVAILABILITY BEFORE ORDERING!


HR Motor Mounts $139 and up


Order below!
Please note that these sell out almost immediately as batches are made. To ensure you get yours timely I suggest ordering to get on the reserve list. These are made by a supplier who is a one man operation. Can usually ship within 2-3 weeks depending on where the latest batch is in process. Thanks.